Hashida Sushi Singapore – An Unforgettable Omakase Experience
April 13, 2018 In
News
My omakase experiences have gotten, progressively, more expensive. While I was deliberating on where I should bring my best friend for a celebratory omakase meal, I consulted Rubbish Eat Rubbish Grow on his thoughts on the biggest names in the Japanese cuisine scene in Singapore. Here were my options : Shinji, Shoukouwa, Hashida, Tatsuya, Jiro. Nat very patiently went through every option with me, and it was a no-brainer. Hashida, it was. I made a reservation online for lunch on a weekday and made my way to Mandarin Gallery with a racing heart.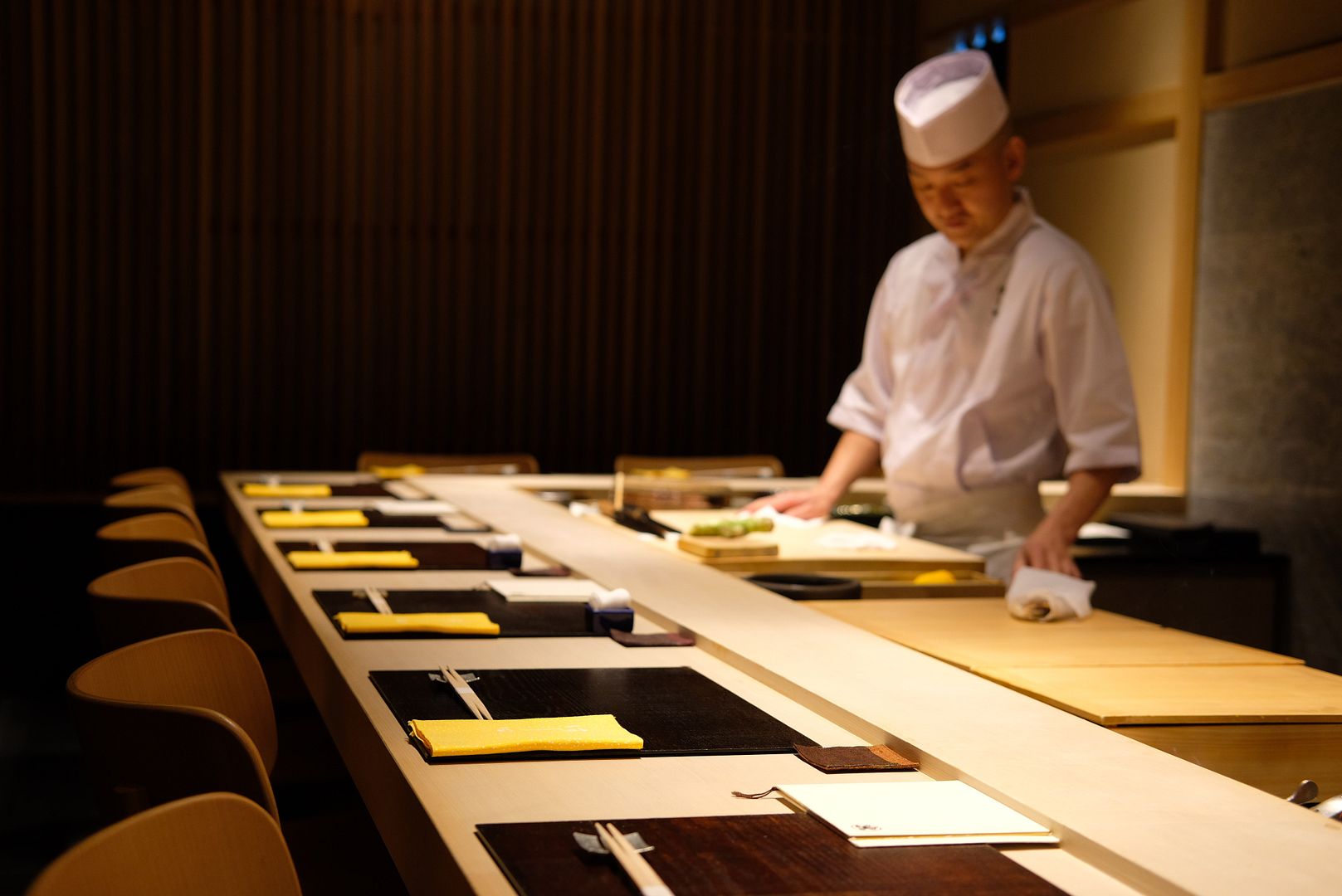 The moment we sat down, we were served hot towels and water, and handed a menu with just a few options that range from $80 – $250. We both opted for the Hiragi ($250) and prepared ourselves for a fantastic feast.
Dish number 1 : Beancurd skin + salmon roe + jelly
Dish number 2 : Chawanmushi with lotus root mochi, and ainame fish
The chawanmushi caught our full attention the very moment we tasted it. It was nothing like our usual chawanmushi. Both the taste and texture were quite different from what we are used to. It's not a bad difference, but it took us by surprise.
Sashimi Platter – seabream, chutoro, aburi kinmedai, tako. Chef Ryoichi let us have a sniff of the shiso leaves before pulling them out and adding them into our saucers of soy sauce. I love the fragrance that the leaves add to the soy sauce! The freshness of the sashimi was evident, and I was amazed at how fatty the chutoro was. Just a bite of the chutoro instantly got me super excited for the otoro, which I knew would be served at the end of the meal.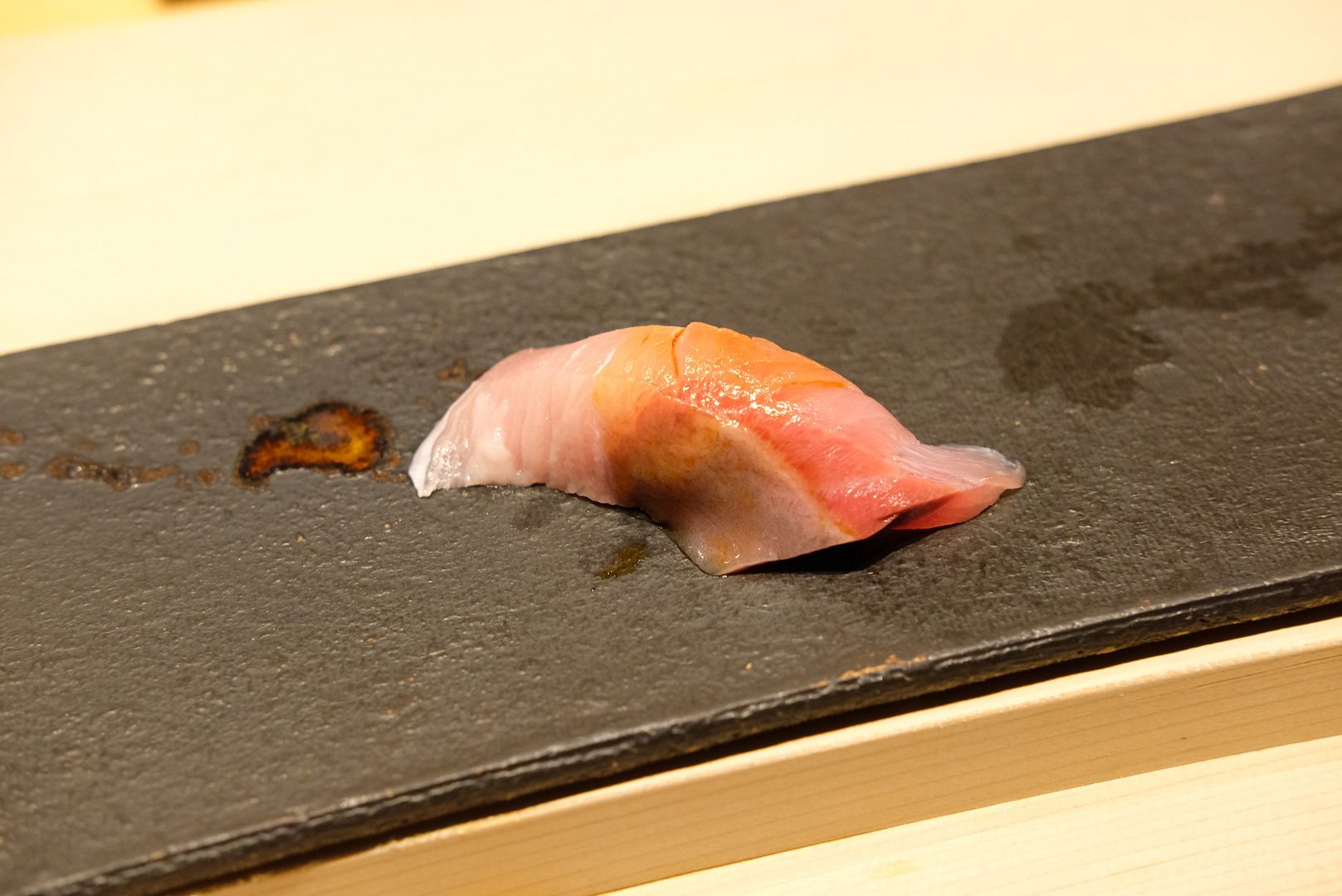 Hands down the BEST yellowtail nigiri I've ever had in my life. The yellowtail was so fatty, and so flavourful!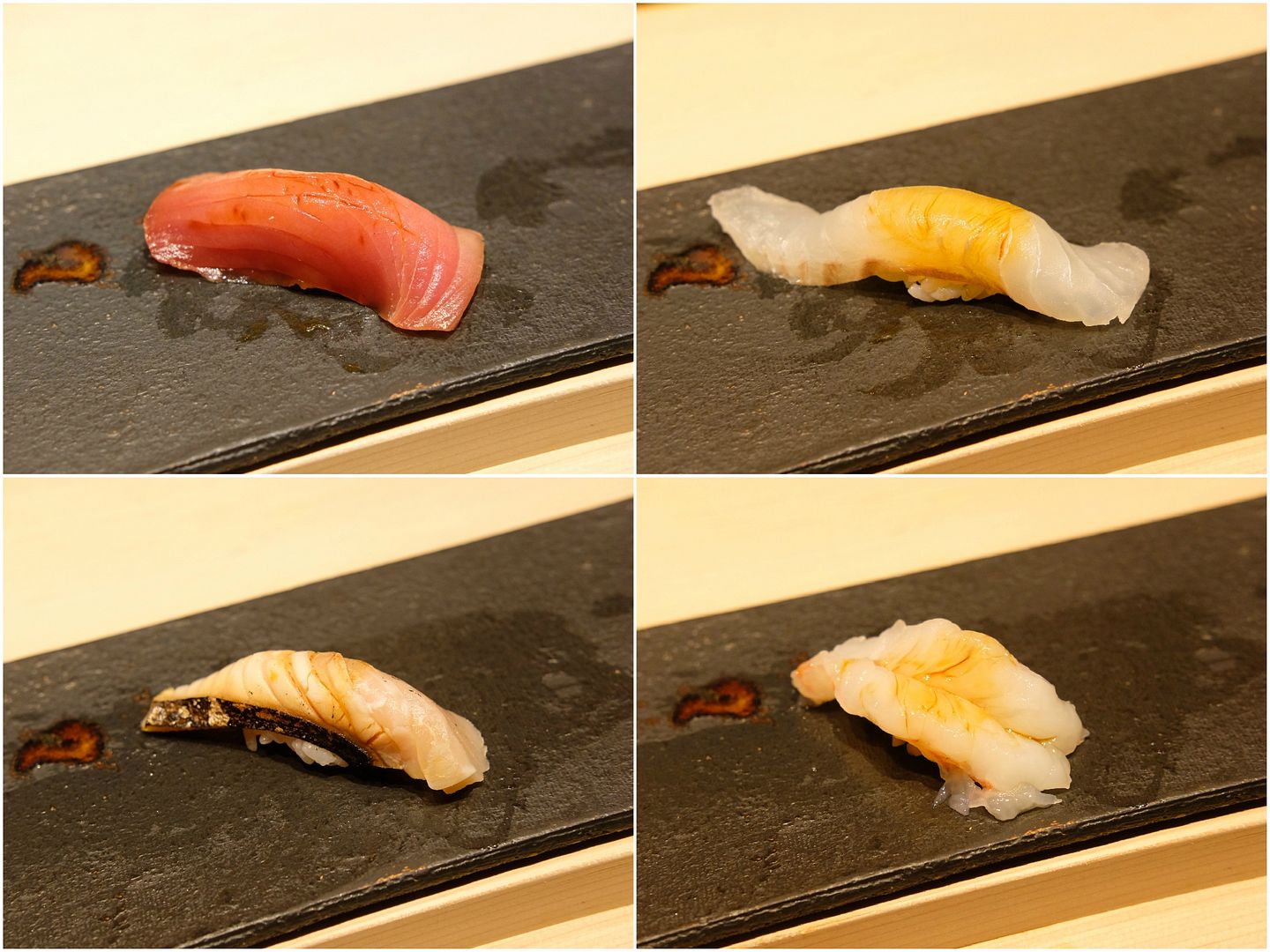 Nigiri – young tuna, flounder, Spanish mackerel, botan ebi. 
The portion of rice was pretty little but the rice was absolutely flawless. The rice had just the right amount of seasoning and every grain was nicely separated, but the rice still stuck together nicely. The rice wasn't hard, nor was it mushy, and the little parcel never threatened to fall apart even when I clumsily picked it up with my hand. By far, the most perfect sushi rice I've had in Singapore. Just sensational. The slices of fish/ebi were of top quality, as expected, and I loved them all. However, the highlight for me was definitely the rice, which stole the show. I can eat the rice on its own! My best friend and I couldn't stop talking about how good the rice was!
The Uni Ikura rice bowl was next. This is one of the signature dishes at Hashida Sushi.
I loved that they were generous with the amount of ikura and creamy uni. And I know that everyone goes nuts for this combination. Strangely, I didn't go crazy for it like I thought I would. Watching Chef Ryoichi put this luxurious bowl together masterfully was a real treat. I don't really know what I was expecting because this is essentially just an ensemble of premium ingredients. While each ingredient was great, and this bowl of richness was certainly more than satisfying, I just didn't feel like OMG ITS SUPER GOOD. I thought the yellowfin nigiri was better than this actually. And I do love my uni very, very much. For those who are afraid that the ikura will get overwhelming, fret not, as the ikura here is not as salty as what we so often get.
Article Source: StrictlyOurs